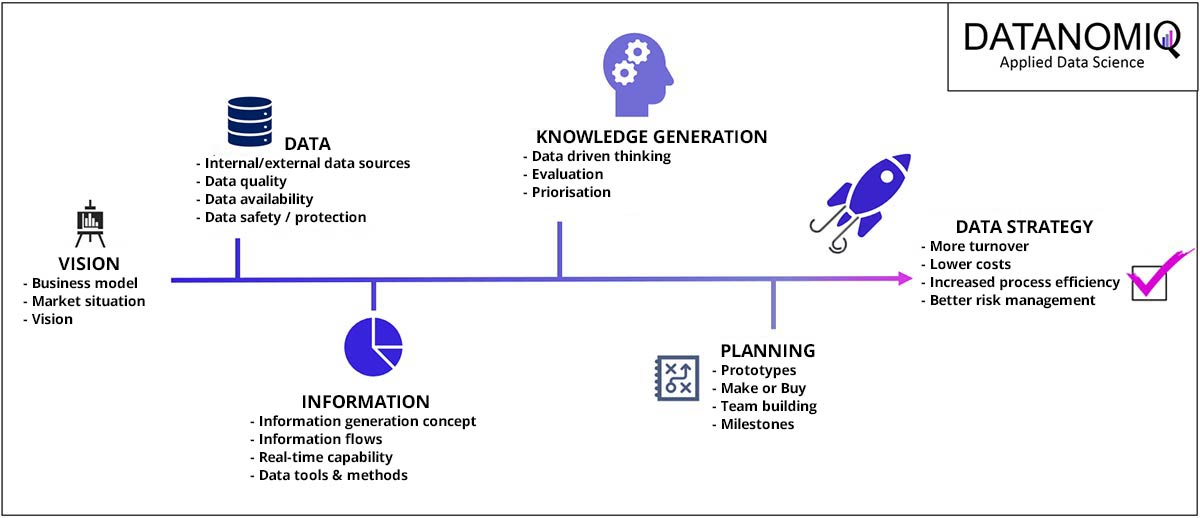 Big data already plays a decisive role in almost all industries and has become an elementary earnings factor. Nevertheless, only a few companies have a mature data strategy in order to develop data-driven business models and revenue fields from it, to achieve leaner processes or simply a new form of data transparency. Many managers fall into uncontrolled actionism. The consequence: without a data strategy, the success of the initiated measures would simply be left to chance. It is therefore necessary to determine the right data course and to concretely identify the best applications in order not to lose touch with the competition. A clear and well thought-out strategy provides clear answers to data-related questions, including
Where do we have usable data and how can we close the data gap?
What valuable data products can we generate from it?
How can we use big data to measurably improve our existing business?
What data projects are our competitors doing?
Which data-driven business model suits us?
What are the resulting opportunities and risks?
How can we best implement it?
What return on investment can we expect?
What methods, technologies and resources are needed?
DATANOMIQ provides the facts on these issues and, as a specialist in the data science market, brings the best prerequisites to develop data strategies that create real value. Furthermore, as the founder of the German digitalisation and networking association Connected Industry e.V., we have a unique insight into the data strategies of leading companies and tangible experience. Traditional consultancies usually lack the necessary big data know-how for this, so it often remains an unimplementable strategy paper. IT consultancies and software companies, on the other hand, lack functional understanding. This means that IT solutions are often implemented without any business benefit.