German medium-sized businesses are just about to master digitalization and we at DATANOMIQ are doing our part. Together with our clients, we have already implemented multiple scalable data platforms in the cloud, which merge the data from MES, WMS, ERP, PDM, CRM systems and many more, as well as machine data, and meaningfully link them into different data models in the data lakehouse.
Data from the Manufacturing Execution System (MES) and machine data (sensor data) play a central role in Industry 4.0 by enabling smooth monitoring and control of manufacturing processes. MES provides an integrated view of all processes, from order management to production monitoring, and enables processes to be monitored and adjusted in real time. Machine data serves as a source of information for shopfloor management and enables monitoring and optimization of manufacturing status, performance and maintenance needs of machines. This leads to improved manufacturing efficiency, flexibility and quality.
Why do you need a cloud data platform? It stands above all operational systems, records all data daily, hourly or in real time, and then processes it for various analysis applications.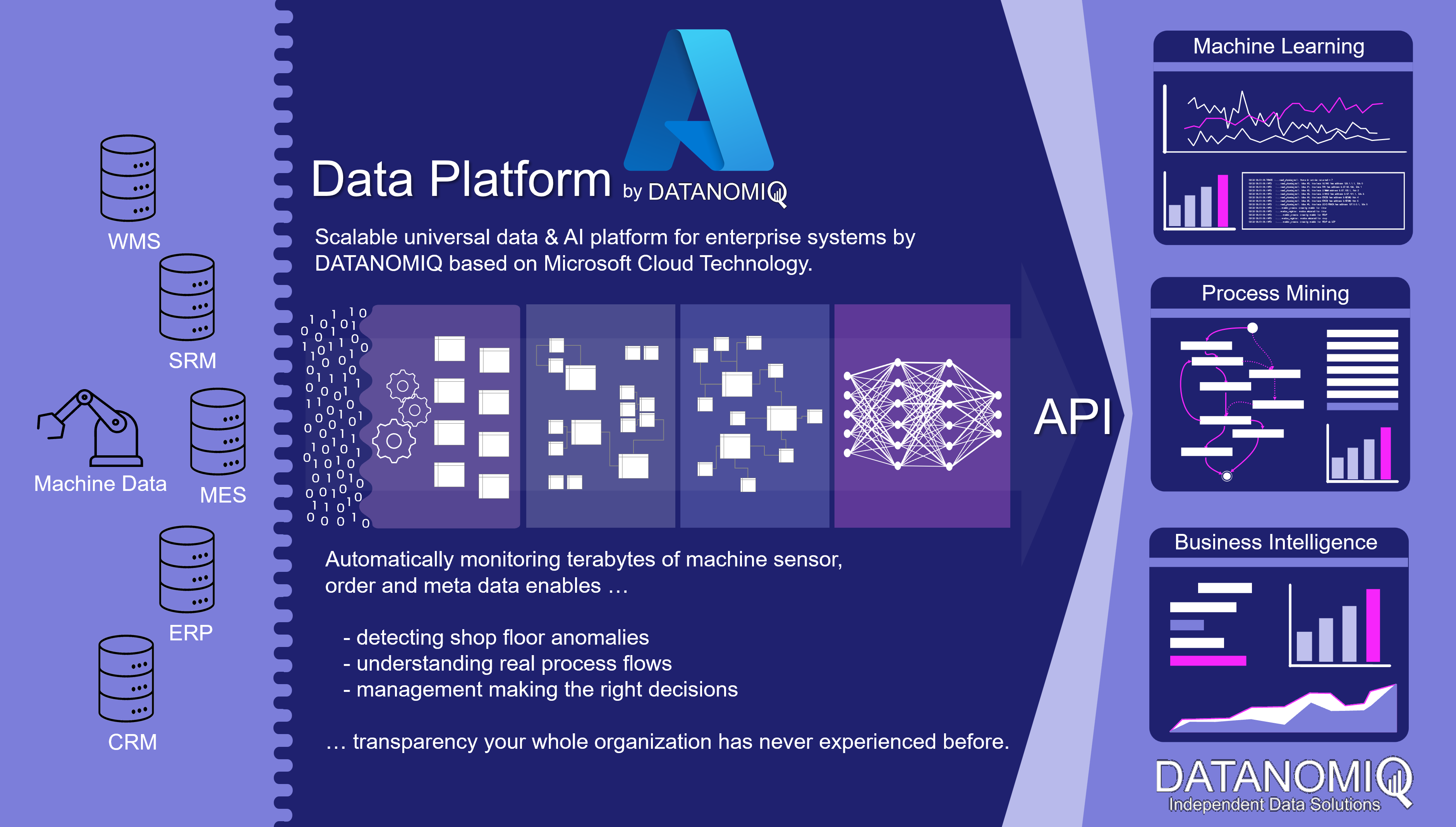 Analytical applications that can be supplied with data from this data platform include:
– Shopfloor reporting of OEE key figures.
– Controlling of correct lot sizes, shifts, margins.
– Process flow analysis (process mining) especially for manufacturing and supply chain.
– Automatic detection of anomalies on the shopfloor or on individual machines.
– Predictive maintenance for individual machines or entire production lines.
This solution looks beyond individual problems since it offers universal and flexible scope for action, and because it scales completely automatically in terms of both performance and cost.
Are you interested in scalable data architectures for your shopfloor management? Or would you like to discuss a specific problem with us? Or maybe you are interested in an individual data strategy? Use our contact form or send us an e-mail to info@datanomiq.de.

DATANOMIQ is the independent consulting and service partner for business intelligence, process mining and data science. We are opening up the diverse possibilities offered by big data and artificial intelligence in all areas of the value chain. We rely on the best minds and the most comprehensive method and technology portfolio for the use of data for business optimization.