Even if companies usually start Process Mining on CRM or ERP standard processes (P2P, O2C), unstructured or semi-structured data from sources such as ticket or telecommunications systems can also be integrated into process analyses. It is not uncommon for particularly critical processes to only be traceable via much more dynamic systems with customer-specific text communication. Particularly interesting process sections take place via email communication, for example, and are therefore blind spots for classic process mining analyses.
Can unstructured data also be analyzed with process mining?
Yes, using Deep Learning for Natural Language Processing (NLP), text documents (including scanned PDFs) and emails can already be reliably classified, for example whether an email from a customer or supplier is attempting to trigger, change or cancel a specific order. Entire paragraphs or sentences of a text can also be interpreted as process activity and, in addition to the e-mail metadata, can also be interpreted sequentially, i.e. put in order. To do this, we rely on various methods from data science and machine learning for NLP, mainly deep learning with bidirectional encoder representations from transformers (BERT).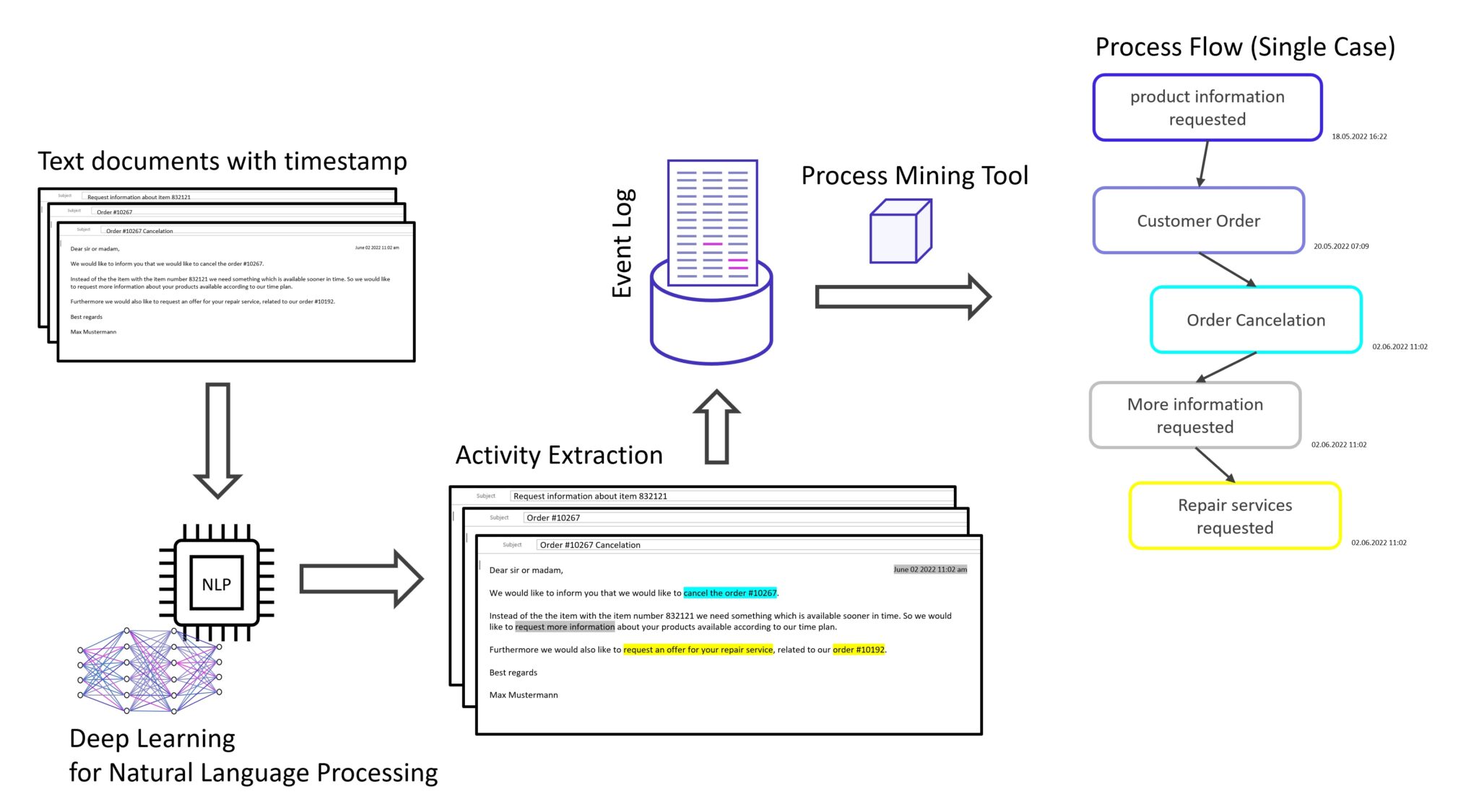 BERT-based methods can be used to mark dates (which are often available as metadata) as well as keywords in texts that indicate activities (events).
It is important to understand that the event logs themselves are structured data and can be loaded into any process mining tool, such as Celonis, Signavio, UiPath and all other tools!
Video material can also be transformed into Event Logs
Incidentally, videos can also be classified per time unit using Deep Learning, which enables integration into process mining analyses. Artificial neural networks trained in image recognition are used for this purpose, which recognize activities image by image. This opens up process analyses of processes that are not tracked in operational IT systems. One example would be video recordings of assembly processes or logistical processes on the factory premises, which are visualized in a comprehensible process flow diagram using process mining on the basis of video data and are thus available for further analysis. This means that in future, analyses according to REFA or MTM can also be automated in their evaluation.
If you are about to introduce or optimize a process mining system for your organization, let us advise you independently! We know almost every solution on the market and can match your technical requirements and organizational needs with the available tools and analytical methods in a neutral manner. DATANOMIQ is your guarantee of success for independent Business Intelligence, Data Science and Process Mining!

DATANOMIQ is the independent consulting and service partner for business intelligence, process mining and data science. We are opening up the diverse possibilities offered by big data and artificial intelligence in all areas of the value chain. We rely on the best minds and the most comprehensive method and technology portfolio for the use of data for business optimization.